I grew up about 80 miles from Metropolitan Stadium, which is where the Minnesota Twins played during the 1960s. Our local TV and radio stations played Twins games, so they got more of our attention than the Braves, who played in Milwaukee at the time.
One day we were watching the highlight reel on the six-o'clock sports report, and I saw a grainy film of Harmon Killebrew hitting a home run. But this wasn't just another home run floating over the fence; it was a line drive that rocketed into the nosebleed seats high above left field. At over 500 feet, it was one of the longest home runs ever hit.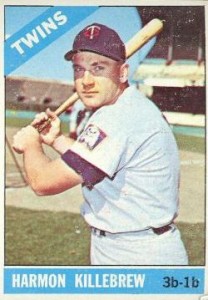 A summer or two later, my mother bought a pack of baseball cards for each of her five kids. My sister's pack included a Harmon Killebrew card like this one. I don't remember how I got it from her. I probably stole it. I don't know where it is any more. I wish I did.
My life as a young baseball fan was all about rooting for Harmon Killebrew to hit home runs, and he did so often enough to hold my interest for several years. Even though a lot of people have hit more home runs than he did, only Babe Ruth exceeds Killebrew in consistency. When he wasn't hitting home runs, he was hitting doubles off the outfield walls. He didn't hit many triples… he couldn't run fast enough. Like Ruth, he struck out a lot, but that's what happens when you're swinging for the fences all the time.
In my early teens, a group of friends and I were brought to a Twins' game by our fathers. There was a chance we'd see Killebrew hit his 500th home run, but we had to settle for a line-drive single. The only home run we saw was a game-winner by Tony Oliva, which barely snuck into the bleachers as it hooked into the right-field corner.
But the highlight of the trip was sitting in the cheap seats on the third-base side, looking to my right to see home plate, and then looking to my left and high up to the vast pavilion in the sky above the left field wall, where all the seats were painted green except for a small cluster in the middle that were painted red. The red seats marked the landing spot of that massive home run, and I could not fathom a ball getting hit that far. The distance looks a lot different when you're standing there than it does on TV.
The best thing to remember about Harmon Killebrew is that he had massive upper body strength without the need for steroids, and that he played at the top of his game year after year without getting full of himself, trash-talking or taunting. Even when he developed into the older player that Jim Bouton called "the fat kid," he was a fat kid that pitchers had to take VERY seriously.
It's too bad that baseball no longer produces the kind of players that kids can revere the way that some of us revered Harmon Killebrew, who became the model for the silhouette of Major League Baseball's logo, and who was rumored (not true) to be the model for the "Arm and Hammer" logo. Harmon Killebrew represents a baseball era that – sadly – is long gone.