…I'd go to Palm Beach, Florida in the late summer of 2000. Somewhere in the county government complex will be a public hearing (or comment period) on the ballot design for the upcoming national election.
It's probably one of those low-level meetings held in a small windowless meeting room with hard plastic chairs, hosted by a sub-committee or a board with jurisdiction over this tiny niche of government. The committee sits at a table in the front of the room facing the handful of citizens in attendance… a reporter or two, maybe some government geeks with nothing better to do.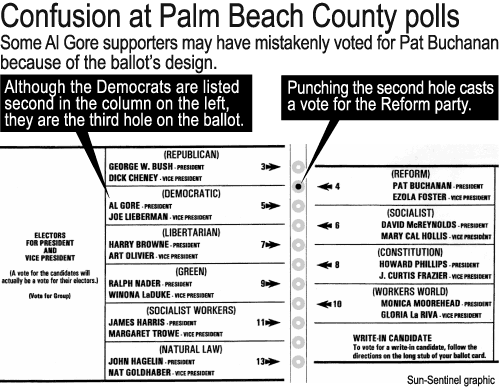 When the ballot design comes up, I would politely approach the committee and address the flaws in the ballot design. I'd work with them to find an improvement on the design that would make the ballot much easier to read, and much harder for a voter to make a mistake.
Let's assume the committee worked in good faith and made the change. We now know that Gore had a net loss of over 6600 votes in Palm Beach County due to bad ballot design. If the redesigned ballot recovers only 1000 of those votes for Gore, then he wins Florida and with it the presidency.
Let your mind run wild for a minute about how different the world would be with Al Gore in the White House in the early '00's instead of George W Bush. Would 9-11 have happened? What would the Supreme Court look like today? Would this insane series of wars have ever started? Would we have seriously responded to the climate crisis long ago?
All because somebody showed up and spoke up at an obscure county meeting.
I have no reason to believe that this hypothetical meeting ever really happened (it could have and should have). What's important is what this story says about civic engagement.
Political and community activism can be tedious. It involves sitting thru hours of mundane meetings in the dusty back rooms of government buildings. It requires a high tolerance for boredom, and an ability to comprehend dense bureaucratic documents.
But once in a while you can make a difference. You never know which meeting you go to – or which issue you comment on, or which action you take – will change the course of history.
So pay attention, show up, speak up and help out, 'cause you never know when you might save the world.