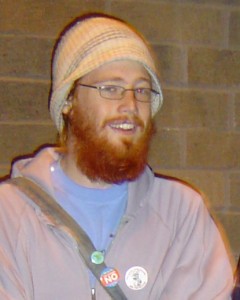 Red was a guy whose life overlapped with ours for a period in the late 2000's. In the gang of activists we hung out with at the time, he was the energetic bike freak with the fiery red beard.
As a student at UW-La Crosse, he helped start a program that reclaimed and rebuilt discarded and abandoned bicycles. While helping us with the last Spokes'n'folks parade in 2006, he connected us with the eight-foot trailer that eventually became ours.
He delivered the trailer with a double-decker bike he had recently built, and took a little time to ride it around in the alley behind purplearth world headquarters.
In March 2010 he hosted us at Nottingham Co-op during one of our visits to Madison. He was happily working at a local bike shop, and the last time we saw him was when he walked with us to the bus stop, carrying our bikes in a cart he built from recycled bike parts.
Since then, Red continued to work in that same bike shop, and embarked on frequent cross-country bike tours. It was on one of these tours that his life ended. On his way to New Orleans for Mardi Gras, Red was hit by a van on a highway in Mississippi and he died at the scene.
Being 150 miles from Madison, we couldn't get there for the memorial (like Red, we don't have a car), but we thought we'd share the video above, the images below, and links to his obit and a story done by a Madison TV station.