The weather prophets told us that today was going to be the warmest day we'll see for a while, so we took a walk to check out a new bike/ped bridge in our neighborhood.
Crossing a new bridge for the first time is an odd sensation. It's like going through a wormhole to a place that previously was very far away.
It also reveals parts of our world that have always been there hidden from view, such as this Mississippi River backwater…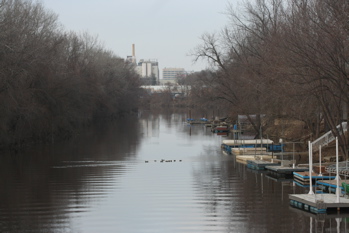 This treehouse was hidden from the street, but it's now a prominent landmark from the bridge…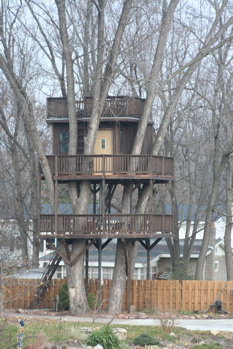 At the base of the bridge, we saw pink paint on the pavement with arrows pointing the way to the "rec trail." We could see a line of pink flags marking the future bike trail, which will go around the back of a local ice arena to connect to an existing trail on the other side.
As we followed the trail, we noticed a snow bank behind the ice arena. It was left there by the zamboni, and it consisted of the ice shavings removed during the latest smoothing of the ice. A couple of resourceful kids from the neighborhood decided to make use of this very early "snow" to build a very short run for their snowboards.
It's good to see people that age finding creative ways to have fun.
httpv://www.youtube.com/watch?v=tcT9u9HW9IQ&start=10